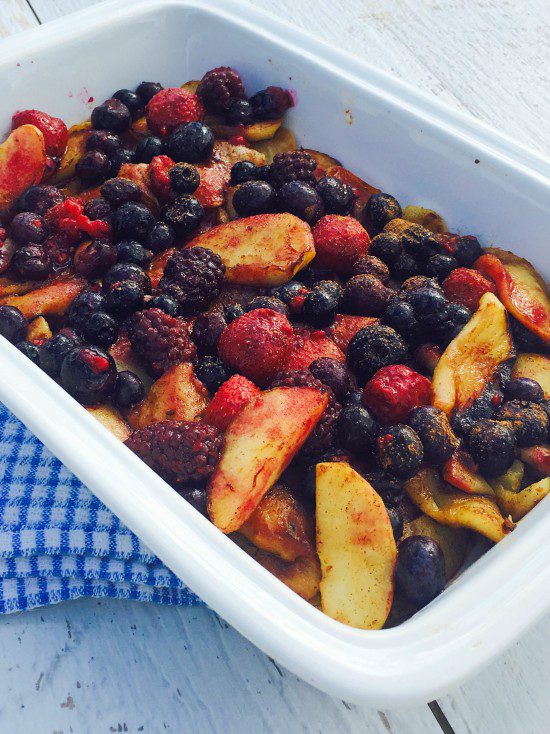 GOLDEN APPLEBERRY PIE
Tell me you can resist a combo of orange, ginger, cinnamon and honey? Tell me this Golden Appleberry Pie isn't good enough to eat for breakfast? And tell me it tastes like birdseed? Let's retract a little. Let's see how a boring muesli can be made into one epic crumble. And wait for it... that crunch, that zest, that sweet....yet nutritious and damn filling. You too love a good crumble with healthy custard or homemade ice cream right? So, I say...go for it. Make this your in between snack or woo friends over dinner. This is a dish made with love. That's why you'll love it too.
Ingredients
Crumble
260g activated goodMix
Blend11
(soak your Blend 11 overnight in fresh orange juice, or water...1/2 cup liquid to every 1 cup mix) 150g/ 1 ¼ cups
almond meal
, raw almonds ground 15g ghee 1 tspn vanilla 1 tspn cinnamon Pinch of Himalayan salt 1 Tblspn orange rind, zested
Filling
6 – 8 apples of choice, peeled, halved and cored, sliced thickly 2 cups frozen organic berries, defrosted if time permits Ghee for sauteing apples
Warmed syrup
1 – 2 Tblspn orange juice 2 – 3 tspns fresh ginger, zested 2 Tblspns raw honey
Method
**Activate your
Blend11
overnight, as per instructions! An option is fresh orange juice. Warm a pan, med to high, and saute apples in ghee until browning or golden. Spread apple in a dish. If berries are still cold or frozen, you can toss them into the warm pan briefly, then spread berries over the apples. Warm in a saucepan…orange juice, ginger and honey over low heat. Meanwhile prepare crumble by combining all ingredients and mixing until combined. Pour the syrup evenly over the apples and berries in the dish. Then top the fruit mix with the crumble, spreading evenly. In a low heated oven, say 150 deg, cook your pie until golden and crunchy, 30- 50 mins depending. Your dish may seem a tad juicy initially, however this syrup makes the dessert extra good and such syrup is absorbed during the cooling process. Warmed leftovers hold well and are not juicy. Leave rest for a while before serving. Serve with your choice of custard or ice cream. Enjoy.
Serves approx
8-10
Thanks to Kerry Eulenstein for this awesome recipe!!
Follow her website at http://www.cultivatinghealth.com.au/
Email : kerry@goodmix.com.au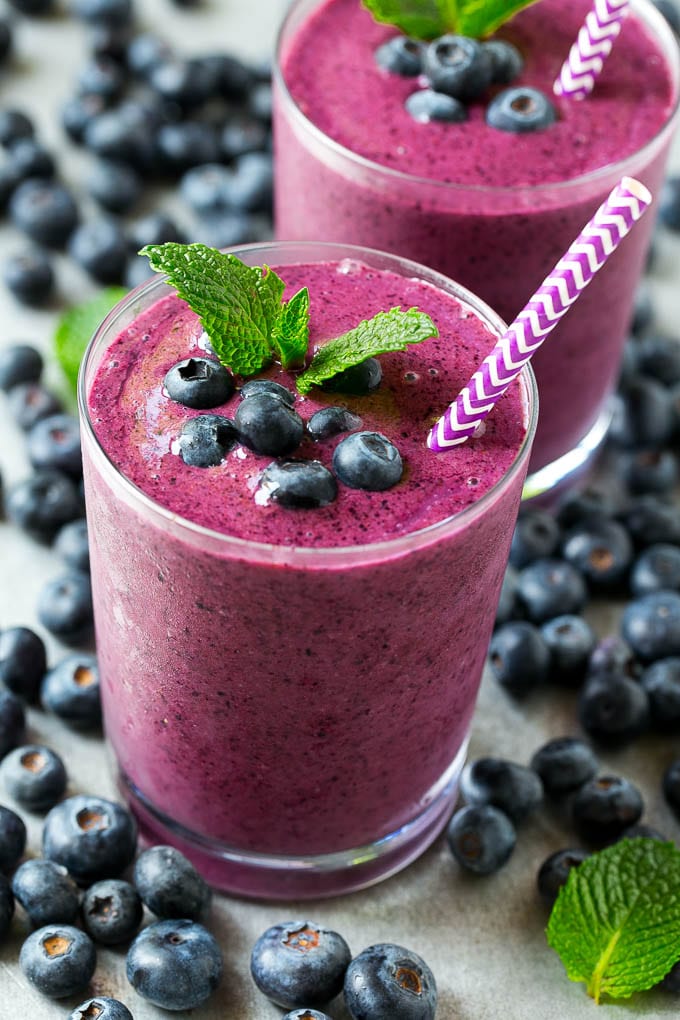 Category_Breakfast
A blueberry smoothie that fills you up 'till lunch and gives you the goodness you need everyday! Ingredients 2 heaped tablespoons of activated goodMix blend11. 1 cup Macadamia Nut Milk (or whatev...
Read more