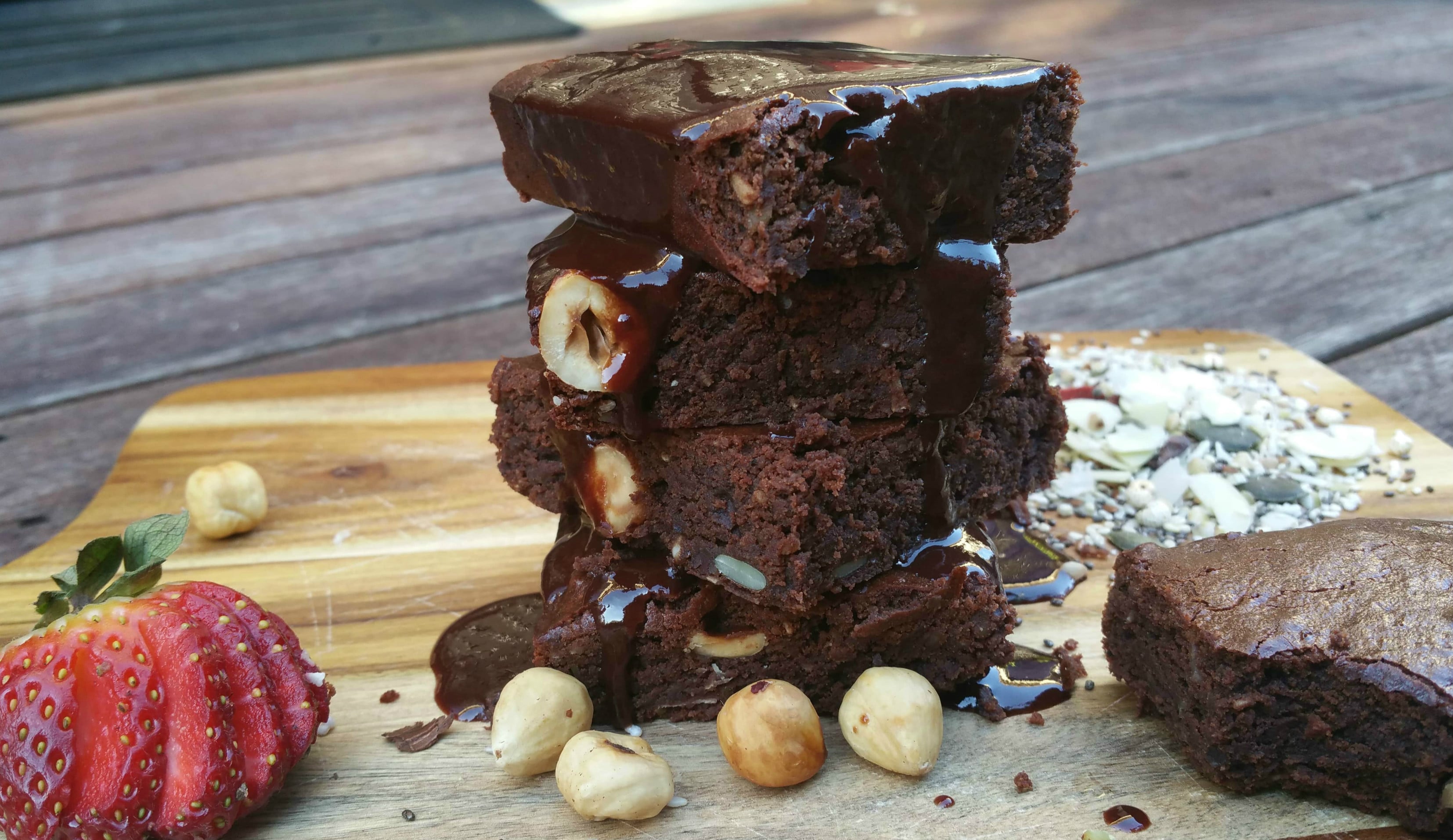 FUDGEY BLEND 11 BROWNIES
These are extremely decadent, cakey and fudgey all at once so hide them or they'll be gone in no time! You can even make awesome brownies sundae by adding vegan banana ice cream, melted chocolate and crushed nuts. Mmmmmmmm :-)
Ingredients 420g organic butter or coconut oil (I know its a lot) 360g coconut sugar 180g cacao 6 eggs 120g flour (quinoa, buckwheat, millet or teff flour should work) 150g hazelnut meal 3 tsp coffee granules 1 tsp Himalayan salt 1 cup activated Blend11 optional: 150g roasted hazelnuts
Method 1. Preheat the oven to 180 C 2. Melt the butter over a low heat and whisk in the sugar, cacao and coffee until the mixture is smooth and the sugar is dissolved. 3. Take the mixture off the heat and whisk in the hazelnut meal, flour, salt and Blend11 until combined. This should be enough to cool the mixture, but if it is still hot allow to cool for a few minutes. 4. Then mix in the eggs and hazelnuts until combined and place into your lined tin and bake for 30 minutes. It will be done when some cracks form on the surface and when an inserted knife or skewer comes out mostly clean (it won't be entirely). 5. Allow to cool on a rack, slice into squares and keep in the fridge.
Serves approx 16
Thanks to Candice Allum for this amazing recipe!!
dessert
THESE...ARE...DEADLY...one bite and you'll think you died and went to chocolate/peanut buttery heaven. Better hide them though, they'll be gone faster than you can say 'best poo's ever'! You need n...
Read more
Category_Desserts
I've always loved Nutella but unfortunately, the way it's processed nowadays makes it toxic which means no more Nutella covered pancakes for me :-( That's why I was so happy when I discovered this ...
Read more