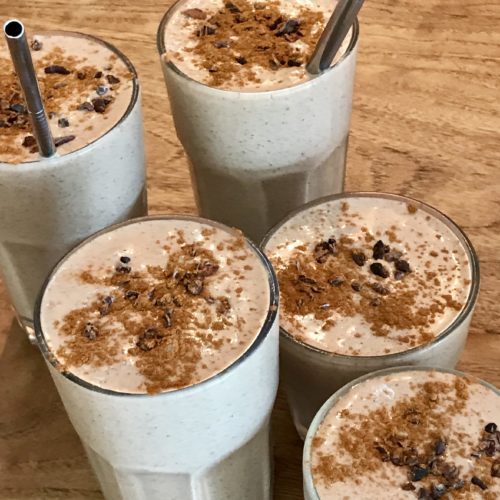 Cinnamon Mocha Smoothie
Creamy mocha-vanilla-cinnamon yumminess, nutritious pre & probiotic healthiness plus some coffee perkiness!
Ingredients
Activated
Blend11
- 1/2 cup Almond milk (or your fave milk) 1 cup Banana - 1 large, just ripe (too ripe & your smoothie will taste too 'banana-ry') Cold brew coffee 1/3 cup (or more or less, add to your own taste & caffeine requirement!)
Natural coconut yoghurt
1/2 cup Chocolate mousse coconut yoghurt - 1/2 cup Kefir (a few tbsp) Vanilla essence - 3 tsp Cinnamon - approx 2 tsp (plus a little extra to sprinkle on top if you wanna get fancy) Brazil nuts (or walnuts) handful Ice - 1.5 cups
Method
Just chuck it all into your blender & press go, buzz on high until it's smooth & creamy. Pour into glasses & top with cacao nibs & cinnamon to make them look pretty, or just straight into a shaker bottle & you have a nourishing breakfast (& coffee) ready to head out the door. This recipe makes a 2-3 good sized smoothies, so adjust qty's to suit if it's just for one person - you can also pour any excess into ice-block moulds to make a supply of yummy mocha icy-poles, perfect for morning / afternoon tea on hot days!
Serves Approx
2-3 good sized smoothies