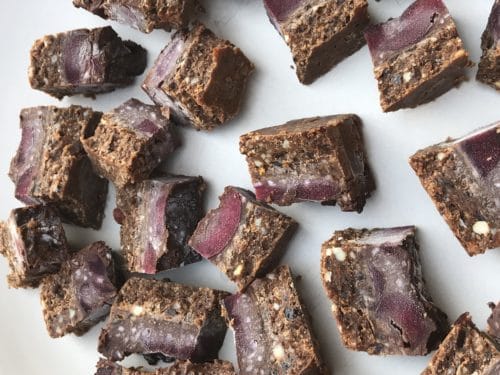 Cherry Ripe Slice Chunks - No Bake
This no bake cherry ripe slice recipe is amazing if you're a recovering Cherry Ripe addict - just like the 'real' bars...only they taste way better cos they're made from real food! So easy, the perfect GF vegan dessert or just to have in the freezer for treats!
Cherry Ripe Slice Recipe Ingredients
1x 750g
Vegan Bliss Ball mix
90g coconut oil 3 tsp vanilla essence 2.5 cups of fresh cherries, chopped 1 cup
shredded coconut
200g dark chocolate, melted
Method
1. Empty your Bliss Ball mix into a large bowl & add coconut oil & vanilla essence, mixing until evenly combined with hands. 2. Melt your chocolate in a double saucepan. 3. While chocolate is melting, blend 1/2 the cherries with the shredded coconut until you have a rough cherry coconut 'paste'. Mix this paste & the remaining chopped cherries into the melted chocolate, this is your topping. 3. Press the Bliss Ball mixture firmly into a paper-lined baking tray or container (about 5-7mm thickness is good). 4. Spoon the choc-cherry mixture on top & spread evenly, pressing down firmly & into the edges of your baking tray/s. 5. Place into the freezer to set, then chop into bite size chunks once solid. Store in containers.
Serves Approx
You will have enough Cherry Ripe slice chunks to see you through at least 2 breakups - this seriously makes tonnes!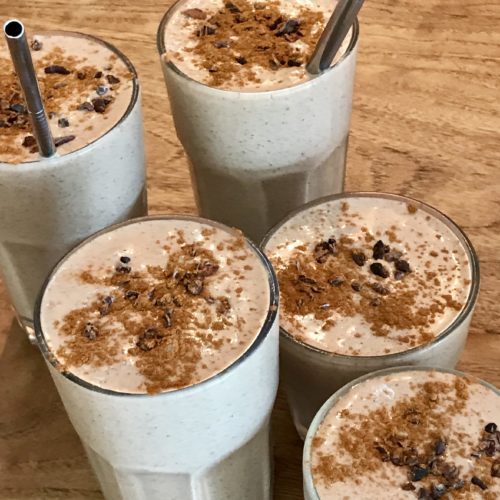 Blend11 smoothie
Creamy mocha-vanilla-cinnamon yumminess, nutritious pre & probiotic healthiness plus some coffee perkiness! Ingredients Activated Blend11 - 1/2 cup Almond milk (or your fave milk) 1 cup Ba...
Read more