BurgerBalls: Chicken, Chives & Broccoli
Easy, portable, protein-rich savoury snack balls. Perfect for lunchboxes, BBQ's, quick dinners...so many possible variations. Gluten free, grain free, sugar free.
Ingredients
1x 400g
Burger Mix
pack (moistened with 150ml water & left overnight). 400 - 500g of Free Range chicken mince 1/2 cup of fresh chives finely chopped (you could also use thyme / parsley etc) Head of organic Broccoli finely chopped in food processor (cauliflower would also work fine) 50ml Oil of your choice (I'd use macadamia, olive, or coconut oil). *Add a teaspoon of sea salt if you feel like it, or some chilli flakes / fresh chilli if you like things a little hotter!
Method
1.Soak your Burger Mix (tip packet into bowl, add 150ml water & mix until evenly combined). Leave covered overnight (bench or fridge is fine). 2.When ready to cook balls, add mince, chives & chopped Broccoli to the bowl, & use hands to combine well. 3.Shape into balls (golf ball size or slightly smaller work well). Set them onto a paper-lined baking tray. 4.Bake for 30-40mins at 180 degrees. 5.Serve with anything you like! Picture shows salad, sauerkraut & dollop of chutney & coconut yoghurt. Bake on a middle shelf until golden brown (mine took 40mins, fan forced at 180 degrees)
Serves Approx
28-30balls
blackberry
Amazing guilt-free summer dessert! Deliciously cold, totally decadent & gluten free, dairy free & refined sugar free! These look amazing & are so simple to make - plus, use your imagina...
Read more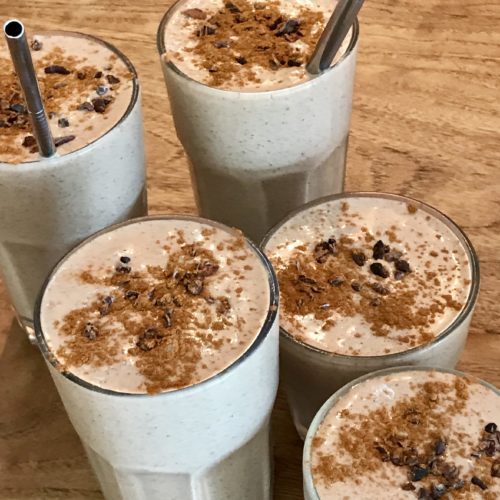 Blend11 smoothie
Creamy mocha-vanilla-cinnamon yumminess, nutritious pre & probiotic healthiness plus some coffee perkiness! Ingredients Activated Blend11 - 1/2 cup Almond milk (or your fave milk) 1 cup Ba...
Read more