Choc Blackberry Tarts
Amazing guilt-free summer dessert! Deliciously cold, totally decadent & gluten free, dairy free & refined sugar free! These look amazing & are so simple to make - plus, use your imagination & there are loads of variations possible!
Ingredients
Cases: 2 cups
Vegan Bliss Ball Mix
mixture 2 cups frozen blackberries (frozen raspberries, cherries or boysenberries would work equally well). 50ml coconut oil (add a dash of vanilla essence to mask the coconut a little if you're not a big fan, or use a 'not-so-strong' tasting one). Filling: Natural unsweetened coconut yoghurt (though you could use any thick yoghurt in a plain, vanilla, berry or choc flavour). Coconut ice cream would be amazing in these too. Extra berries for the top. You could go all out & drizzle some melted dark choc on top too (I didn't, but might do it next time!)
Method
1.Blend the blackberries, coconut oil & BallBag mix in a food processor until smooth(ish). 2.Spoon your semi-frozen purple mixture into a silicone muffin tray & use a spoon / wet fingers to press mixture into the sides & shape a hollow into the centre (make sure the 'walls' are relatively even & at least 3-5 mm in thickness, but don't worry if they look a bit messy)! 3.Place in the freezer to set hard (I left mine for a few hours). 4.Remove cases from the freezer, check that they're solid & then remove each one quickly from your silicone tray by pushing the bottoms up & 'inside out'. (Or just take one out at a time if this is 'your' special clean treat - the rest will keep in the freezer for weeks!) 5.Fill your case / cases with dollops of yoghurt & top with another frozen berry, eat straight away / once the shell is semi-defrosted (soft enough to spoon through easily, but not too melty!)
Serves Approx
7-8 big muffin size tarts or loads of tiny bite size ones.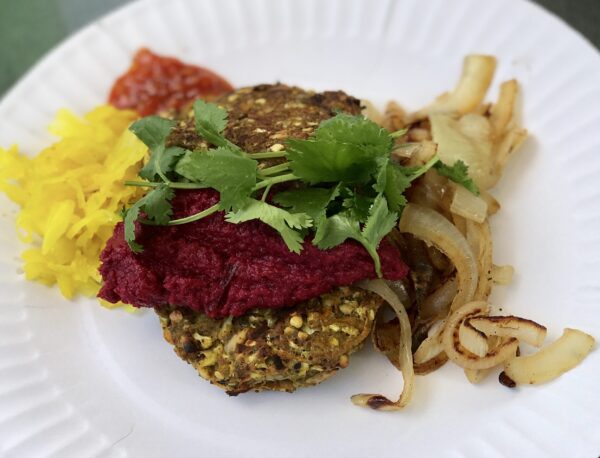 Category_Dinner
This veggie patty recipe is so quick & easy to take to make to take to a BBQ when you're not keen on the sausages you know will be on offer! Make heaps because all the sausage eaters will be as...
Read more