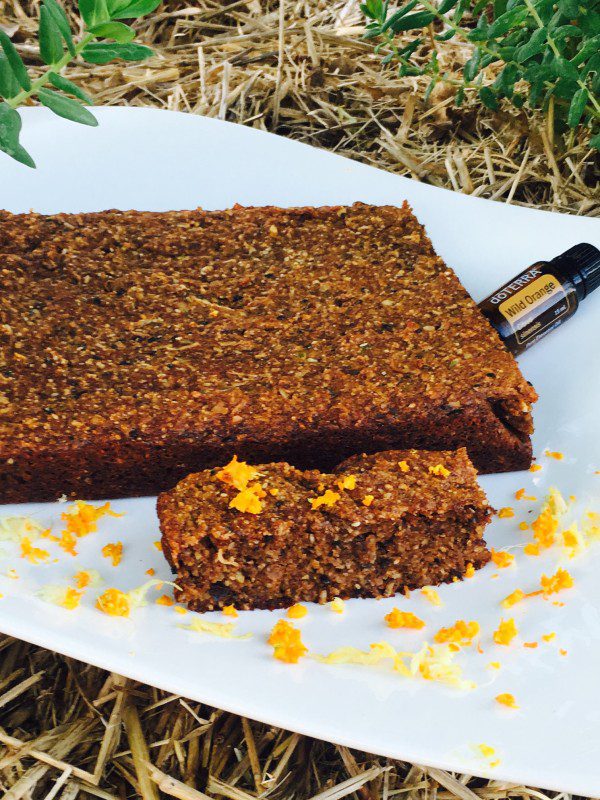 BLENDED ZESTY CAKE
A Zesty Cake that looks like a carrot cake without the carrot... with the spice and orange thing going on. A one blender/processor throw it all in and blend baby. 250g/1 cup full activated goodMix Blend 13 (choose B11 or B13, half of each) 100g almond meal (grind raw almonds) or other, sunflower seed meal for eg. 30g / ¼ cup coconut flour, or banana flour 40g / ¾ cup shredded coconut ½ Tblspn fresh grated ginger, or ½ Tblspn ground ginger 1 Tblspn ground cinnamon ½ Tblspn ground nutmeg Pinch of Himalayan salt 1 tspn baking soda, aluminium free 90g raw honey, or approx. 130g rice syrup for fructose friendly 3 Tblspns soft-melted coconut oil 100g ghee soft-melted, or melted butter 3 eggs ½ Tblspn vanilla extract 15-20 drops orange essential oil, food grade, OR the zest of 1 orange Juice of 1 orange (80g) or 80g water if no oranges on hand
For the Syrup Icing (optional): 10 drops Orange essential oil, or zest of an orange 4 Tblspns water, or orange juice 2 Tblspns tahini 2 Tblspns raw honey, or 3 T rice malt syrup for fructose friendly Pinch of Himalayan salt Method Method: Activate your blend(s) overnight, then… Using your Thermomix, or a blender, throw all ingredients in to blend together until combined. Using any of the following… lamington tin, brownie tin, loaf tin, pyrex dish, muffins or springform pan… pour your mix into lined tin(s) and bake at 160 (maybe 180 oven temp depending) for the required time, adjusting time to suit type of tin used. 35 mins for brownie/small lamington or slice tin, longer for loaf style and say 20 mins for muffins. Cover with foil if needing to bake beyond 25-30 mins. Option...A spoonful or 2 of Coconut cream is a nice addition to the syrup, though bear in mind that it will not set as firmly at refrigeration if you wish it to be more of an icing. The addition of a small amount of coconut oil will help it set more firmly but again, not at room temperature. Pour syrup icing over the cooled cake or refrigerate syrup a few moments to set firmer before spreading on the cake and either serve or slice to freeze in pieces wrapped in gladwrap. 12 - 15 pieces Thanks Kerry for this awesome recipe!!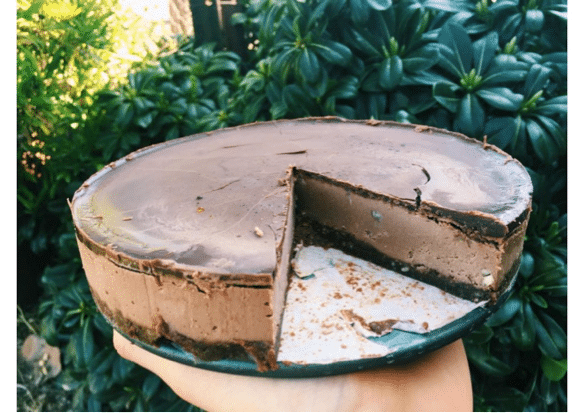 Category_Desserts
This no-bake Nutella Cheesecake recipe is absolutely divine! It's also organic, raw, vegan, gluten-free, refined sugar-free & dairy-free! Who doesn't love a delicious dessert without the guilt?...
Read more
Category_Breakfast
A beautiful acai chia pudding parfait recipe that has a delicious blend of gooey, crunchy & FRUITY goodness in a jar! Ingredients - 2 tsp blend11 - 2 tsp Chia Seeds - 1/2C Almond Milk - 1 tsp...
Read more