'Best Poos Ever' - Bircher
Prunes, pears, prebiotic fibre, cinnamon, probiotic yoghurt...if this combo doesn't move things along gently, nothing will!
Ingredients
2 tbsp activated
Blend11
2 tbsp organic coconut yoghurt - our fave
Pure n Free
5 Prunes, soaked overnight in water 1/2 a pear, chopped Sprinkle of cinnamon
Method
1) Mix yoghurt with Blend11 & add extra few tablespoons of water 2) Add soaked prunes & their juice 3) Top with chopped pear & cinnamon 4) Wait for the effects ;) Click here to find out what's with the
Best Poos Ever?
If you're lacking energy, have bloating constipation, IBS diarrhoea, poor skin, mood fluctuations, etc, I would love to hear from you & will personally answer your questions the best I can. Jeanie X
jeanie@goodmix.com.au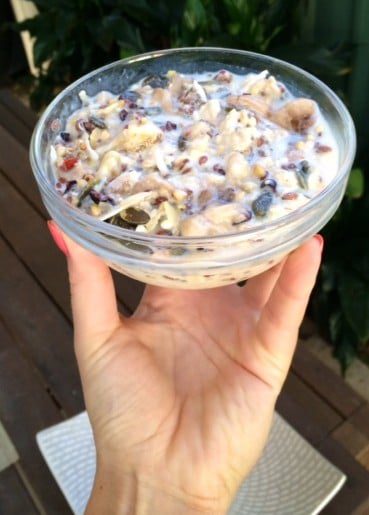 Category_Breakfast
Ingredients 1/2 cup Blend 11 1/2 cup rolled oats 1/2 frozen banana cut into slices (awesome texture) 1/2 cup of almond milk Method - Put all into a small bowl and let soak overnight. - I...
Read more