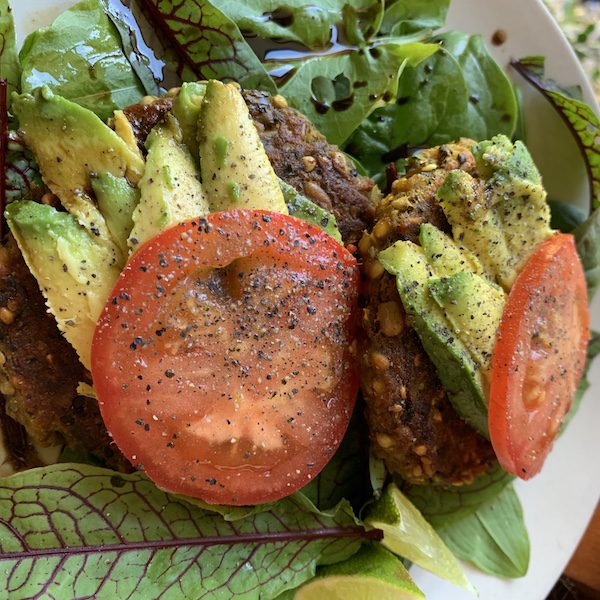 Salmon & Bean Patties
An easy healthy breakfast, lunch or dinner option for the whole family. Protein, fibre, omega-3's, plenty of vitamins & minerals.
Ingredients
1 x 400g packet of
Burger Mix
, soaked (in 200mL of water overnight) 30mL olive oil 1 x can of white beans (butter beans or cannellini) well drained & rinsed 200g of tinned salmon (or could use smoked) 1 cup of shallots finely chopped More olive oil for frying
Method
Empty 'Burger Mix' packet into a bowl. Add 200mL of water, mix thoroughly & leave in the fridge overnight (or a few days is fine).
Mash the rinsed & drained white beans, olive oil, & salmon roughly together in a large bowl using a fork.
Add the soaked Burger Mix & shallots into the salmon & bean mix, mixing until everything is evenly combined into a pattie 'dough'.
Take handfuls of 'dough', shaped into patties & cook in a well oiled fry pan or sandwich press (put a little oil on top of your patties too if using a press). *this recipe would also work well shaped into balls & baked.
Top with avocado, tomato, a sprinkle of salt & pepper & a squeeze of lemon or lime juice. Serve on a bed of fresh greens.
Serves Approx
Makes 10 -12 patties, depending on size.
Category_Kid favourite
Sounds super weird, but after seeing all the recipes online I decided to try it! Result: 3 out of 4 fussy kids said they were 'actually pretty good' & they were gone in under 24hrs. High in fib...
Read more