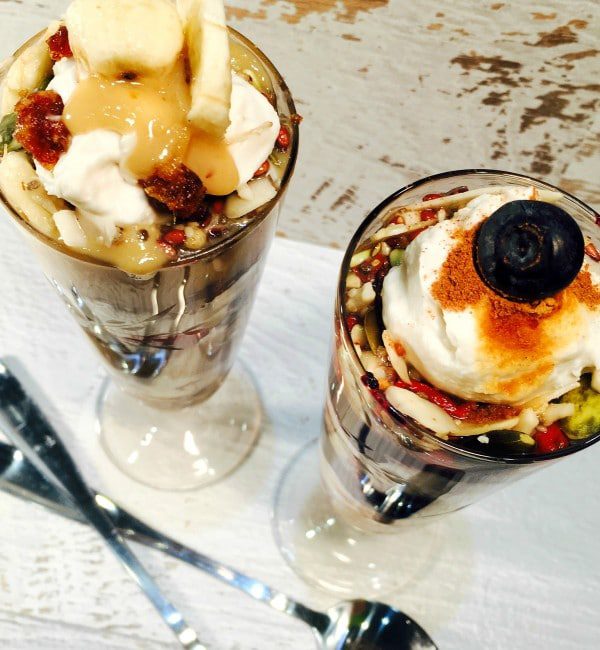 PARFAIT PLUS
Dairy free parfaits or trifles with your choice of sauce and flavour combo.
Ingredients
Blend 11
or
Blend 13
, activated in water overnight Coconut yoghurt Berry coulis, or Tahini syrup Cinnamon Banana, sliced Blueberries, defrosted Medjool dates (option) Coconut Yoghurt (refer to Jo Whitton Quirky Cooking cookbook) I heat 800g – 900g quality pure coconut cream with either 2 Tblspns agar agar flakes OR 2 tspns agar agar powder, in the Thermomix 10 mins/100 deg/spd 5 Cool (in the freezer if impatient) to 37 deg before blending (ensure at 37 deg) in 1/4 tspn probiotic powder or 2 capsules (25 billion live cultures) and 1 Tblspn pure maple syrup. Set in yoghurt maker 24 hours for best results. Chill well before blending. 2 examples of sauce options…
Berry coulis
Cook as little or as many frozen blueberries as you like with a little raw honey, up to 2 tspns. Allow 25-30 mins for 1 packet to reduce down to a thickish consistency. Thermomix 20-30 mins/100 deg/spd 2 or 3. Chill before using. This is thick enough to use in your yoghurt alone to create a blueberry swirl coconut yoghurt, once your yoghurt is chilled and ready to serve. OR
Tahini syrup
Take a few tablespoons of tahini, mix in a little rice syrup and macadamia oil (or water if you like) to create a runnier consistency. Taste and adjust to likeness. Options may be to add some cacao powder, mesquite powder… Also, you can create a date paste or blob blended up fresh medjool dates throughout or on top to decorate your parfait or for a more natural sweetener. Create other parfait options by changing up the fruit…like passion and pineapple. Make other sauces, caramel, chocolate, butters. If you want a creamier consistency or more bircher style you can soak your goodMix blend(s) in yoghurt, coconut milk, or half water half yoghurt.
Method
When you have soaked your blend(s), and made your components… you simply layer in suitable/desirable glass(es) or dish, beginning with your blend, then yoghurt, chosen syrups, fruit and repeat the process. Shake a little cinnamon or other desirable powder throughout or just on top. Chill. Serve and enjoy.
Serves approx
2 or so serves Thank you for this wonderful recipe Kerry! kerry@goodmix.com.au Kerry's Website : http://www.cultivatinghealth.com.au
Category_Desserts
Tahini...chocolate...happy dance! A dairy free gem with shavings of cacao butter and chocolate... with or without nuts. Ingredients 750g Bliss Ball mix of your choice (nut free or vegan for eg) 100...
Read more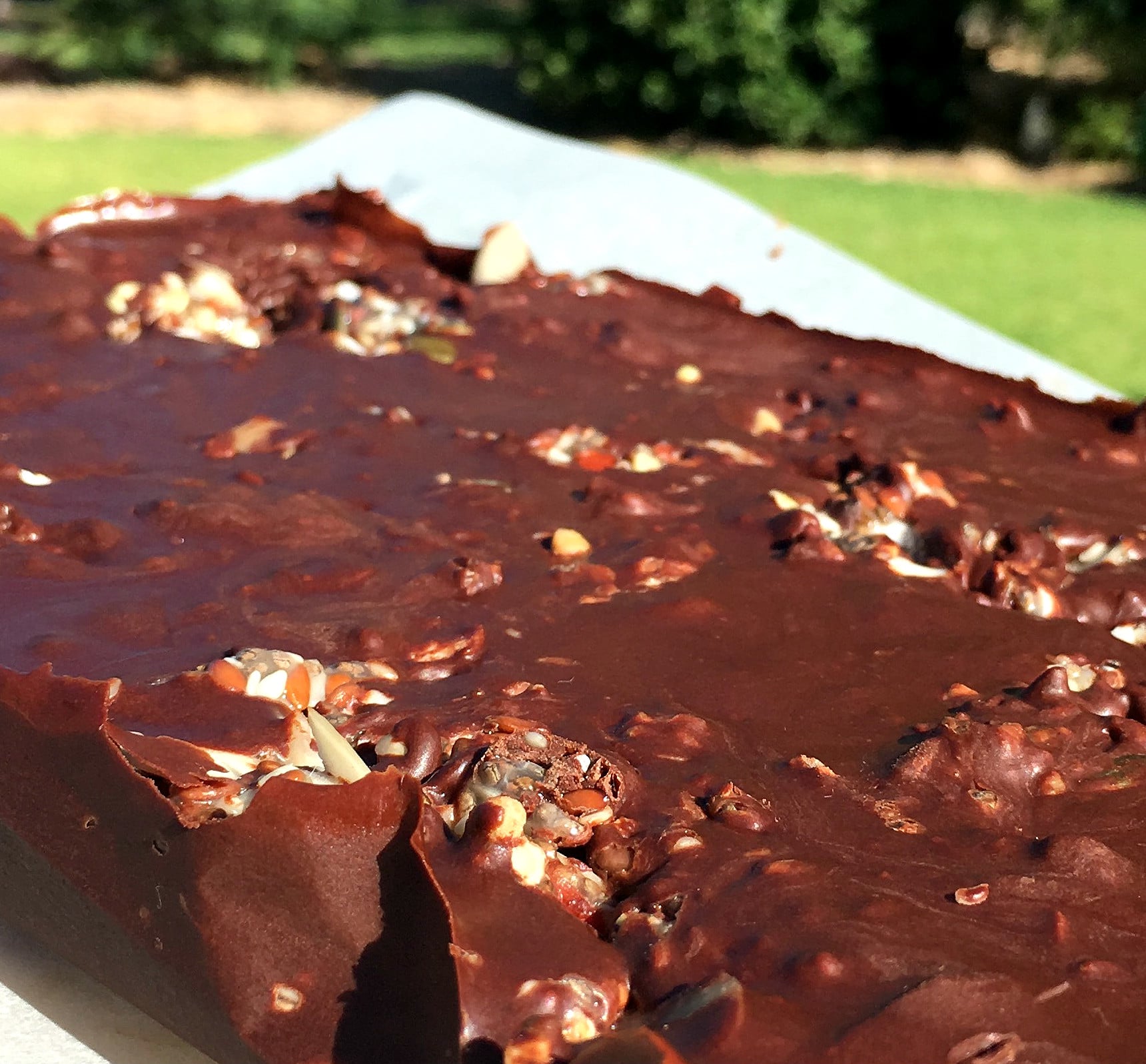 Category_Desserts
Dairy free creamy chunky chocolate blends with the goodness of essential oils Ingredients 1 cup Blend 11 or Blend 13, activated over night 250g Changing Habits Cacao Wafers or Cacao Butter with 5...
Read more