Lemon Turmeric Blend 11 Tea Cake
Loving this Lemon Turmeric Blend 11 Tea Cake, it's easy to put together for a nutritional boost (& even better when served with Coconut Whipped Cream) 🥰
Ingredients
1 ½ cups G.F. all-purpose flour 2 teaspoons baking powder 1 teaspoon salt 2 Tbsp
Blend 11
(& extra to sprinkle on top) ¾ tsp ground turmeric 2 lemons 1 cup Coconut sugar, plus 2 Tbsp for sprinkling ¾ cup Coconut yogurt 2 large eggs ½ cup unsalted butter, melted Whipped coconut cream
Method
1.Heat the oven to 350 degrees. Lightly grease a 4-by-9-inch loaf pan with nonstick cooking spray or butter, and line it with parchment, leaving some overhang on both of the longer sides so you're able to easily lift the cake out after baking. 2.Whisk the flour, baking powder, salt, Blend 11 and turmeric in a large bowl. 3.Grate 2 tablespoons zest from 1 lemon into a medium bowl. Halve the zested lemon and squeeze 2 tablespoons juice into a small bowl. Cut half the remaining whole lemon into thin rounds, discarding seeds (save the other half for another use). 4.Add 1 cup sugar to the lemon zest in the medium bowl; rub together with your fingertips until the sugar is fragrant and tinted yellow. Whisk in the yoghurt, eggs and the 2 tablespoons lemon juice until well blended. 5.Using a spatula, add the wet mixture to the flour mixture, stirring just to blend. Fold in the melted butter. Scrape the batter into the prepared pan, smoothing the top. Scatter the top with the lemon slices, Blend 11 and 2 tablespoons Coconut sugar. 6.Bake until the top of the cake is golden brown, the edges pull away from the sides of the pan, and a tester inserted into the centre comes out clean, 50 to 60 minutes. (If the lemons are getting too dark, lay a piece of foil on top to prevent burning.) Let cool before slicing. (Cake can be baked up to 5 days ahead, wrapped tightly, and stored at room temperature.) Serve with whipped coconut cream, or yoghurt.
Serves Approx
10 Thank you to Monica Smith for this recipe! aktivliving@gmail.com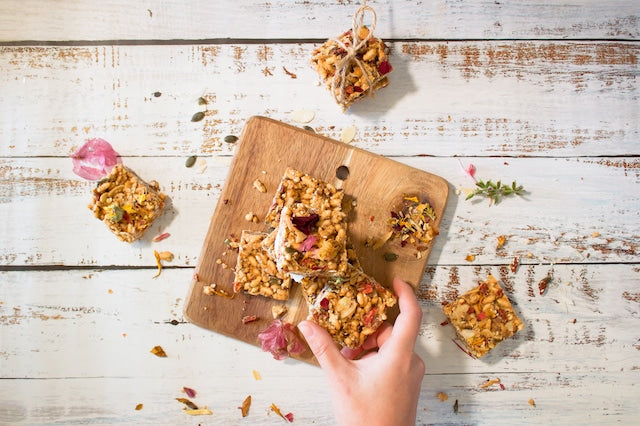 Category_Desserts
The Hummingbird Cake is gluten free, refined sugar free & dairy free. Ingredients 4 free range eggs, lightly beaten 1 cup Coconut oil 1 cup Rapudura sugar, firmly packed 2 cups gf self-raising ...
Read more