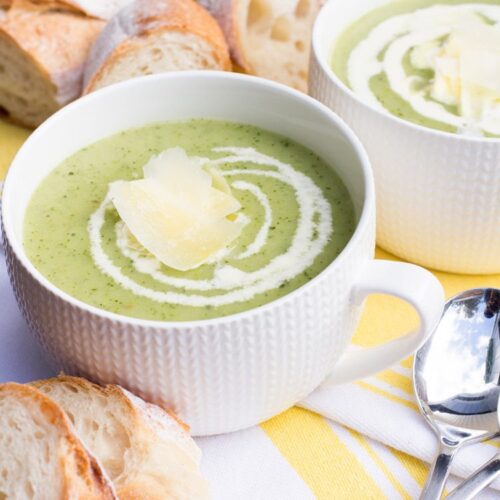 Healthy Vegetarian Zucchini Soup
Cold winter weather means it's time for soup, and this healthy vegetarian zucchini soup recipe is one to add to your winter dinner or lunch roster. It's incredibly simple to make, creamy, and packed with flavour even though there's less than 7 core ingredients.
Ingredients
1 tbsp
Greens + Aloe
1 tbsp oil 4 medium-sized zucchini chopped 1 leek, chopped 1 brown onion, diced 2 garlic cloves, crushed 2 potatoes, chopped 1 tsp dried tsp Thyme leave 4 cups stock (vegetable) Salt and pepper Cream and Parmesan cheese to serve
Method
Heat oil in a large saucepan over medium heat. Add the leek, onion, garlic and thyme and cook, stirring, for 1 minute or until the onion and leek softens slightly. Increase heat to high. Add the zucchini, potato, stock and bring to the boil. Cook, stirring occasionally, for 10 minutes or until the potato is tender. Remove from heat and cool for 5 minutes. Blend together in a food processor adding 1 tbsp
Greens + Aloe
or blender until smooth. Return soup to the heat to warm through. Season with salt and pepper. Serve with cream or parmesan cheese (or both!) and with crusty bread.
Serves Approx
6 Thank you to Clint for this recipe! info@grabyourspork.com
Category_Breakfast
OMG. Game-changing breakfast recipe. Goodbye toast, hello press patties!! Just make up a batch of 'dough', add whatever grated or finely chopped veggies you have in the fridge & sandwich press ...
Read more
blend11
You can't go wrong with peanut butter & chocolate! If you're looking for a healthier chocolate hit, Blend11 gives the base of this chocolate peanut butter slice, strength, crunch, texture, &amp...
Read more