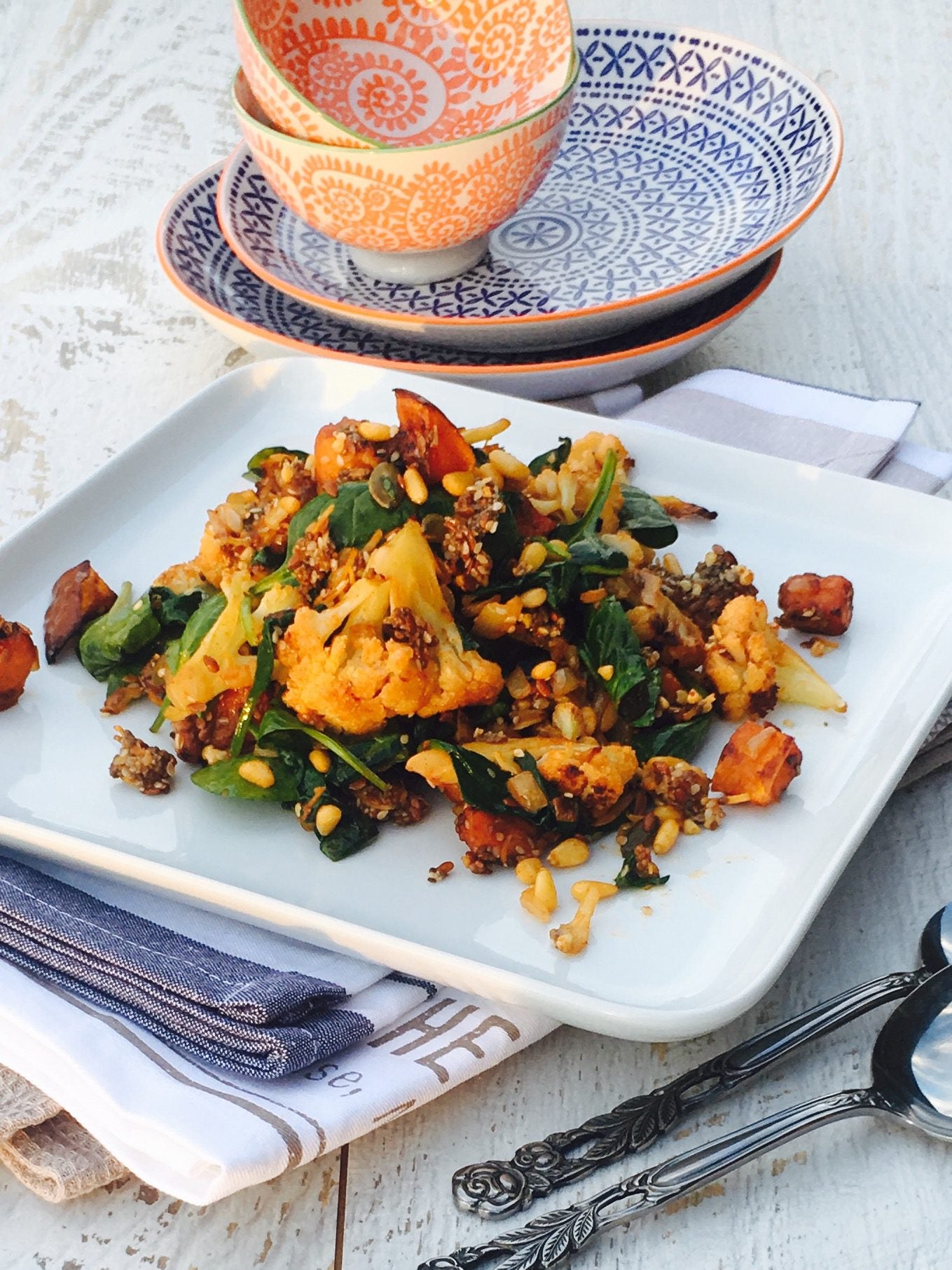 CAULIFLOWER, PUMPKIN, PINENUT & PAPRIKA SALAD
Winter or not, bring warmth to your table with this epic salad. It makes a sensational side... accompanied by grilled wild caught fish, this Cauliflower salad is also rather complete in itself!
Ingredients
300g activated goodMix
Blend 11
(soak approx. 1 ½ - 2 cups of dry mix) 1040g / ¼ pumpkin cubed and roasted 1000g / 1 whole cauliflower, florets chopped but chunky 2 onions, diced 120g / 3 big handfuls baby spinach 80-100g pinenuts, dry roasted ¼ to ½ tspn celtic salt 3 tspns Paprika Coconut oil for roasting veg Ghee for sauteeing Olive oil to drizzle salad
Method
Method: **Activate your
Blend 11
overnight, as per instructions! Spread cubed chunks of pumpkin and cauliflower florets on a baking tray rubbing them with a lightly greased hand of coconut oil. Roast until nicely done, say 50 mins, or until roasted, tossing as needed. Optional….sautee cauliflower in ghee until soft and golden in a pan on the stove. Briefly dry roast pinenuts in a clean dry pan over low heat, tossing until golden. Remove from the pan to cool. Sautee onions in a small amount of ghee. Remove onion from the heat and bring all ingredients together, including paprika and sprinkling in celtic salt to taste. To serve, drizzle with good quality pure olive oil. Accompany this salad with grilled wild caught fish…though a bowl of this is rather complete in itself. Enjoy.
Serves Approx
Side serve approx. 130g. Meal serve approx. 300g. Total dish approx. 1400g Thank you to Kerry Eulenstein for this recipe! kerry@goodmix.com.au