ACTIVATED NUT BUTTER
Clearly....why anything else when it comes to a spread? With it's profile...beginning with epic enzyme activity, there's definitely value in this simple nut butter. Made with love. Simple, delicious and nourishing. So go on...butter up, spread love and spread it good... **(GRIND your
Blend11
, then soak refined blend overnight...1/2 cup liquid to every 1 cup mix)
Ingredients
1 cup/100g activated goodMix
Blend11
(grind the blend to make fine, then soak) 10g ghee/1 Tblspn 50g avocado oil 5g/1 tspn cinnamon Pinch of Himalayan salt ½ tspn vanilla extract 20-30g coconut palm sugar (or to taste)
Options...
For a twist…lemon juice For chocolate nut butter…
cacao powder
Method
**Activate your 'ground'
Blend11
overnight, as per instructions! Take your refined activated/soaked blend and put it in the thermomix or a blender with the remaining ingredients. Blend until mixed well, and a spreadable butter. Nut butter sets a little firmer when refrigerated. The consistency prior refrigeration is thick, so adding more oil or a tad of water if you wish for a thinner butter. Enjoy your activated nut butter where you would typically use a spread.
Serves approx
Makes approx 300g
Thanks to Kerry Eulenstein for this amazing recipe!!
Email : kerry@goodmix.com.au
Website : http://www.cultivatinghealth.com.au/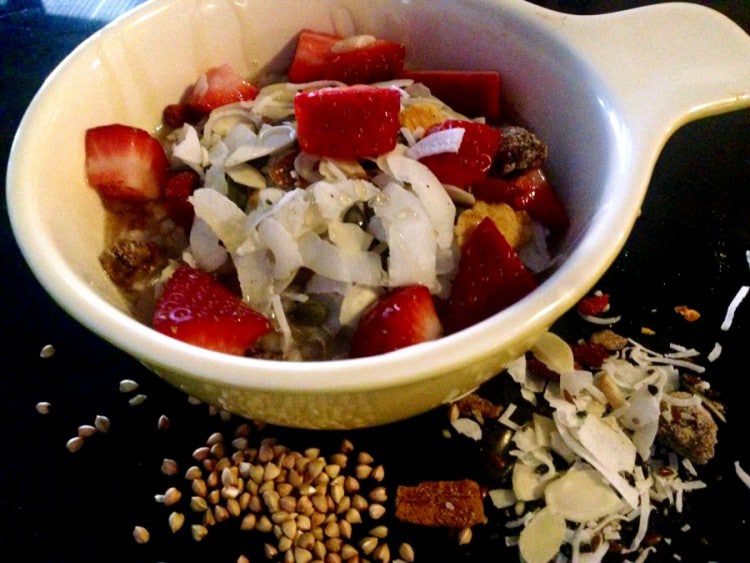 Category_Breakfast
Given up grains? Have a gluten intolerance? This doesn't mean you have to give up all the benefits of the traditional winter warmer porridge. This winter bowl of goodness will warm you right down t...
Read more
Category_Breakfast
This is a great gluten free, winter warmer breakfast for those carrot cake/porridge lovers out there! Ingredients 1 cup quinoa 2 cups nut milk (almond works well) 2 small grated apples 1 large ...
Read more