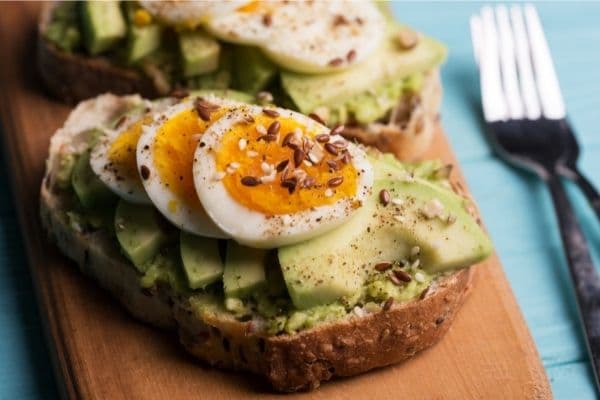 Toast for Breakfast Vs Toast for Breakfast: Healthier ways to do toast!
Coming into the cooler weather, we're often wanting some warm options for breakfast - toast being a quick & easy fave. When a naturopath takes your case history, we'll want to know what your typical food intake looks like - & if you answer 'toast for breakfast', we're gonna want details! Because you can do toast really well, or really poorly. If you're doing Nutella with margerine on white bread for years, you'll see very different results with your health & body composition than if you're using some of the ideas below! Get creative - use these ideas as a base to work from!
Healthy Toast Principles:
include protein (supports your muscles & thus metabolism, keeps you full)
include quality fats (fat doesn't make you fat, it's the refined carbs & sugars!)
include some veggies (fibre, vitamins, minerals, antioxidants)
include some 'superfoods' (extra concentrated nutrients)
piled high with toppings (to make the toast part less & the healthy toppers more!) That way you'll eat less 'flour' & more nutrient dense toppers.
organic if possible (less toxicity / irritation to your body & our planet)
GF (if reactive / intolerant/ coeliac). So many people feel & function better without gluten.
sourdough if better tolerated (for many this is the case)
low FODMAP if better tolerated (ie spelt bread - it's better tolerated by many. Spelt still has gluten but is low FODMAP).
Better Toast Ideas: Use the healthiest toast you can find / afford / make. If you're currently using cheap store bought white bread, remember you normally get what you pay for! (You're worth so much more). If you are poor at the moment, just use what you have & focus on the toppings-to-bread ratio! Try switching to organic wholegrain sourdough, rye, spelt, etc - or for GF you can find breads that are great for toasting made with buckwheat, sorghum, millet, quinoa, rice flour, seeds, psyllium husk etc. If you choose one that's not already sliced, slice it thin rather than thick (so each toast serve has less toast & more topping!) I buy a loaf of quality heavy, GF bread unsliced, then slice it thinly & freeze.
Healthy Toast Toppers to Try…
avocado, tinned salmon, tomato & red onion. Get tins with the bones still in (minerals). Tuna is ok too, but salmon / sardines are better choices as they have more omega 3 & smaller fish = less mercury contamination.
avocado, sardines, sesame & shallots. You can mash sardines with tamari for extra flavour / different texture.
avocado & Everymite (link to buy Everymite)
hommous, Everymite, avocado & sprouts
pesto (make your own if you have a blender / food processor & some herbs growing) here's a recipe for a 'prostate support pesto' that's great for the guys! I make classic pesto, & also sometimes throw heaps of different herbs in.
herb butter (organic butter & olive oil for the base, or for a vegan take, I blend cashews, hempseeds, flaked almonds +/- macadamias, & some coconut oil to help it solidify. Then add as many finely chopped herbs as you can pick, & some garlic, salt & pepper). Make a whole block, you'll use it in your cooking too. Just let the butter melt a little, then when soft enough, mash in loads of chopped herbs & olive oil with a fork. I use whatever I have growing / find on special at the markets. Parsley, sage, rosemary & thyme (any Simon & Garfunkel fans?) marjoram, oregano, basil, etc…so yum, & such a great way to get extra greens in! You can add some spinach etc too. Can be stored frozen in ice cube trays for use in cooking.
nut butters with banana & cinnamon
eggs / omelette
mushrooms (so good sautéed in the herb butter), with spinach & tomato
banana, peanut butter & Blend11 (cinnamon for extra points)
pate (make sure it's organic / grass fed) you can often find makers at the markets), top with extras if desired
goat feta & smoked salmon
Everymite & avo (&/or hommous / nut butter & sprouts)
Sweet potato can also be thinly sliced & cooked (multiple times) in a toaster or sandwich press as 'toast' like base.
Try swapping toast for rice cakes / corn thins for variety sometimes.
Make one of these healthy bread recipes: Blend11 keto bread rolls, best ever Blend11 bread.
And guess what - for most of these toast recipes, you can use our veggie burger mix patties as a base instead of toast! Just have a bowl of pattie mix ready in the fridge, then grab a handful or two & turn on the sandwich press to cook. Note - you can also have patties stored in the fridge pre-cooked & just reheat in the toaster or press! My fave is top with avo, pesto &/or cashew cheese, then sprouts or sauerkraut. Yum!