Veggie Patties with Tomato & Mushroom
These versatile patties are perfect for BBQ's, to make a stack of for lunches on the go, or a quick easy dinner - even a nice hot breakfast in Winter. And of course, such a fantastic way to sneak loads of hidden veggies into the kids - toddlers (& big kids) love these!
Ingredients
1x
Burger Mix
(800g pack) 400mL of water 300g of carrot (or pumpkin / sweet potato also works great) 300g of zucchini 100g chopped tomato 100g chopped mushroom 100mL olive oil or coconut oil (& some extra for frying)
Method
Add the 400mL of water to your dry
Burger Mix
(use a large bowl to fit all the veg too). Leave mix overnight to absorb all the water / allow it to thicken into a nice firm dough. Use food processor to grate all veg except the tomato & mushies (chop these). Add grated veg into soaked Burger Mix Add chopped tomato & mushrooms Add 100ml of olive oil, & mix / squash everything together well using clean hands. Shape mix into patties ready to cook later, or you can literally just grab a handful of mix from the bowl & put it straight onto the oiled sandwich press, fry pan or BBQ. So easy / less clean up that way! Cook until well browned & crisp on the outside. They will be moist on the inside. Top with avocado or serve with a nice salad / sauce / chutney etc.
Serves Approx
Makes 20 good-sized patties Thank you to Jeanie for this recipe! jeanie@goodmix.com.au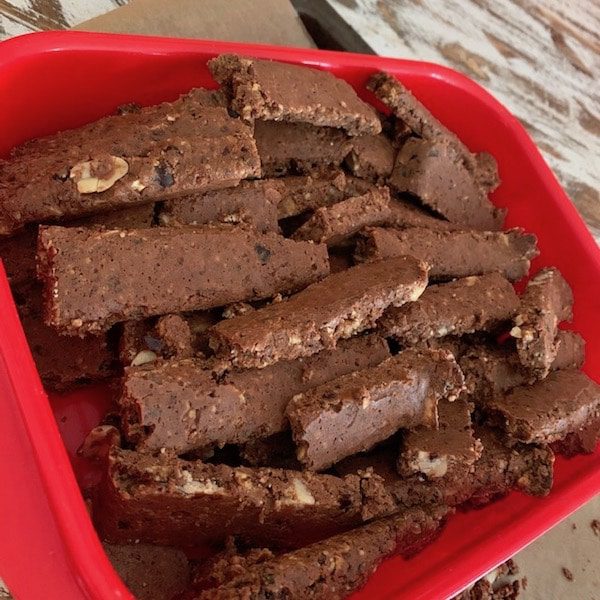 Category_Desserts
Great choccy snacks (with benefits) for pre / post-workout or morning afternoon tea. Super filling & also gluten-free & refined sugar-free, with plenty of plant protein, fibre, antioxidants...
Read more