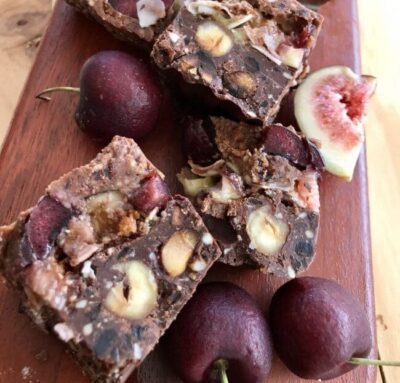 Rocky Road Delight
A decadent blend of dark choccy, cherries, toasted hazelnuts, coconut & fresh figs! But you could use strawberries, raspberries, blueberries, apricots...& any nuts / seeds to go with! Be inspired by what you find at your local farmers markets.
Ingredients
1 x 375g
Bliss Ball mix
(plus 45g of coconut oil). 1 or 2 small blocks of quality, 70-80% dark chocolate (approx 150 - 200g, I used Lindt). 200g (approx) of Hazelnuts (toasted gently - they burn easily so keep an eye on them!) 3-4 fresh figs diced into small pieces 4-6 fresh cherries diced into small pieces 1/2 cup (or to your preference) of coconut flakes (also toasted if preferred).
Method
1) Melt the dark chocolate in a double saucepan & put the nuts & coconut in the oven to toast (seperate trays in case they cook unevenly). Spread them out, & keep checking & tossing every 2 minutes or so. 2) Mix the coconut oil thoroughly into the
Bliss Ball
mix with your hands while the chocolate is melting. 3) Combine the melted dark choccy & Bliss Ball - coconut oil mix well, & press a 1cm thick layer into a silicone loaf tin (or baking paper-lined metal tin). 4) Gently press the hazelnuts, & pieces of fig & cherry into the soft choccy mixture, being careful not to squish them too much! 5) Layer some coconut flakes over the top. 6) Cover with another layer of the choccy /
Bliss Ball
mix, gently moulding & pressing together until not too many gaps are left. 7) Refrigerate until set, then slice into squares carefully. 8) Serve to any chocolate lover for dessert...or as morning tea...or with a cuppa...heck, even for breakfast ;) Be mindful that the figs & cherries will only stay fresh for a couple of days. (That can be your excuse to eat lots, hate to be wasteful;) Thank you to Jeanie for this recipe! jeanie@goodmix.com.au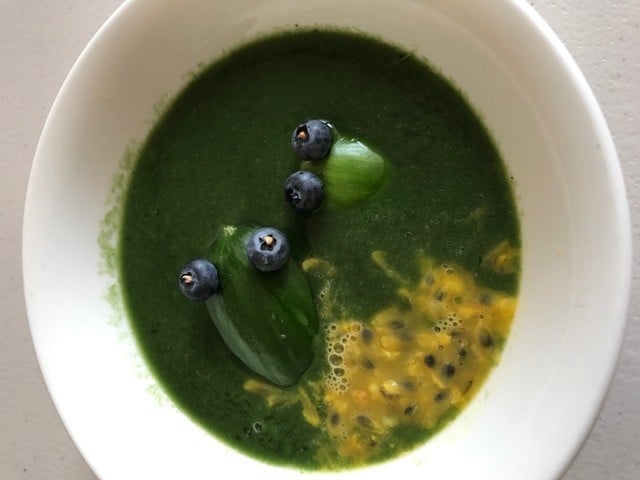 Category_Breakfast
A fun way to get the kids involved in their greens (well it's worth a try!) A nice way to hide some veggies & get them onto the Greens Plus Aloe Ingredients 1/2 cup celery tops 1/2 cup baby sp...
Read more
Category_Desserts
Move over store bought chocolates, we're taking it up a level this year with a healthier handmade options sure to impress your loved ones. With our Bliss Ball mix and a few simple ingredients you'l...
Read more