Roast Pumpkin & Pinenut Crackers
The Burger Mix can be a little spicy for some people (the cracked pepper), so this is a nice way to sweeten / calm the spiciness - plus add some more veggies in - perfect for kids (they will never know they are eating pumpkin unless you tell them)! So delicious, these tasters were a big hit at our market stalls.
Ingredients
1x 400g pack of
Burger Mix
, dry - do NOT add the water as directed on pack, your roast pumpkin should provide enough moisture. 2 cups roast jap pumpkin (skin on) 50 ml healthy oil (olive, coconut, macadamia) 1/2 cup of pine nuts *No water (depends on how moist your pumpkin was, I needed none).
Method
1.Tip Burger Mix into a bowl. 2.Add the roast pumpkin & oil 3.Mash / mix / squash it all together evenly until you have a nice firm dough. 4.Leave to sit for at least 3-4 hours (or overnight / couple of days in the fridge is fine). 5.Using a rolling pin, roll mix out evenly between baking paper on your bench, to a thickness of approx 2mm. 6.Transfer to baking trays, (you'll need 2) peel top layer of paper off & cut crackers (a pizza cutter works well, or you can do shapes with a cookie cutter). 7.Bake on a low heat until starting to crisp (I used 160 degrees for approx 40mins, then turned oven off but left fan on, until crackers were fully dry & would snap nicely.
Serves Approx
2 oven trays full of crackers - almost half a kg of healthy crackers!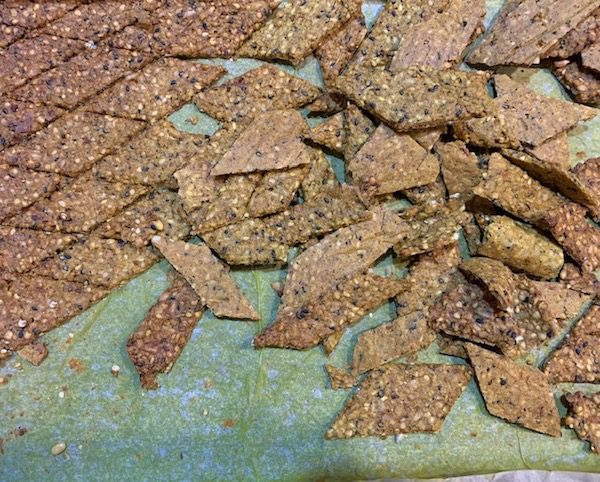 Category_Hot Drinks
A simple recipe to decrease the peppery kick in your Burger Mix (ideal for kids / sensitive palettes), plus it will add extra protein & nutrients making for some very filling crackers! Ingredie...
Read more