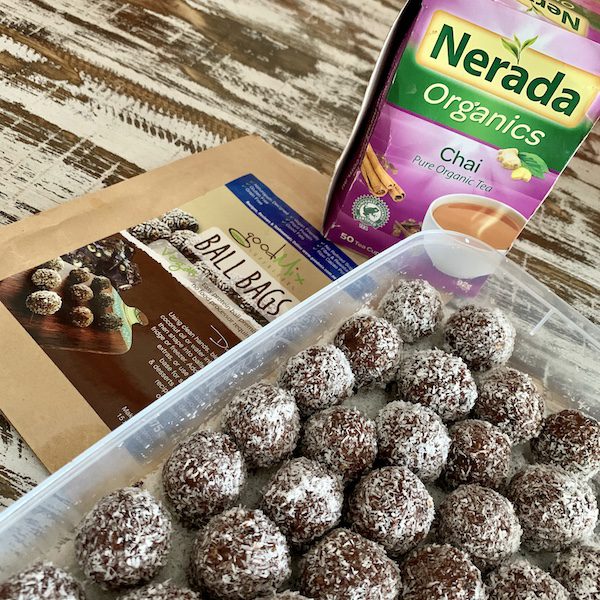 Chocolate Chai Protein Balls
An easy & delicious way to get more antioxidants into your day! The spices in Chai are amazing for you (& they give a subtle exotic twist to your regular choc protein balls)! Perfect for a treat anytime of day!
Ingredients
1x Vegan
Bliss Ball Mix
750g 4x Chai tea bags 1/3 cup of water 1 tbsp coconut oil (optional - use an extra splash of water if you don't have / like coconut oil)
Method
Boil the kettle & steep 3-4 chai tea bags in 1/3 cup of water (approx 15mins, covered). I used Nerada Organics which worked really well - but you can use your fave Chai. Tip your BallBag mix, & the 1/3 cup of chai tea & coconut oil into a large bowl. Be sure to squeeze every last drop from your tea bags, as this is where the flavour / exotic spicy goodness is! Work everything through with clean hands, until thoroughly mixed into a nice choc-chai 'mud'. Compress into balls, whatever size you like, roll in desiccated coconut & store in the freezer.
Serves Approx
30 x 30g balls
Carrot cake
Gluten free carrot cake rocks! This one is so dense, not too sweet & with loads of prebiotic fibre, resistant starch, good fats, protein & a good serve of veggies! With so much nutrition pa...
Read more
Category_Kid favourite
Sounds super weird, but after seeing all the recipes online I decided to try it! Result: 3 out of 4 fussy kids said they were 'actually pretty good' & they were gone in under 24hrs. High in fib...
Read more