Gluten Free Carrot Cake
Gluten free carrot cake rocks! This one is so dense, not too sweet & with loads of prebiotic fibre, resistant starch, good fats, protein & a good serve of veggies! With so much nutrition packed in here it kinda overrides the guilt of it being a sweet treat! The gluten free carrot cake recipe can be cooked 3 ways - muffins, ring tin or slow-cooked into a moist carrot cake pudding!
Gluten Free Carrot Cake Recipe Ingredients:
2 cups activated Blend 11 (seed & superfood mix)
1 cup almond meal
1 cup coconut flour
1 cup tigernut flour
1 cup sorghum flour
1 cup coconut sugar
1 cup currants
1 cup sultanas
1 cup walnuts (chopped)
3 cups grated carrot (firmly packed)
1 rounded dessert spoon of cinnamon
2 flat teaspoons of nutmeg
1/2 cup of natural yoghurt + 1 flat tsp of bicarb soda (mixed with a fork) *for dairy free substitute coconut yoghurt or plant milk + a good dash of lemon or orange juice
3 eggs + 1 cup of water (beaten with fork) *use egg replacement for vegan / egg free option
100g of melted butter or coconut oil
Method
Add all dry ingredients to a large mixing bowl (including grated carrot).
Melt the butter or coconut oil.
Mix the bi-carb & yoghurt together in a cup
Beat the eggs & water with a fork in a small bowl
Add both the wet ingredient mixes & the melted butter into your large bowl with the dry ingredients & combine well (you'll need to mix & then use clean hands to finish it off / ensure it's all evenly combined as it's not runny / liquid like a regular cake mix).
Press mixture down firmly into well greased ring tin & leftover into muffin trays, bake on a mid or high shelf at 180 degrees c, for approx 40 mins (muffins) & 1 hr for the ring tin.
For the slow cooker option, grease your slow cooker, then press mixture down into the pot, place lid on & leave to cook (on slow temp) for approx 4-6 hours, or until it smells amazing, looks to be nicely browned on edges & tastes cooked like a pudding. You can tip some fresh squeezed orange juice on top anytime if it seems to need more moisture / you want it to cook it longer without drying.
Serves Approx
You can make 1 ring tin cake, 1 slow cooker pudding 2.5cm deep & 2 muffins with this qty of mix (make any combination). Make sure you follow our Facebook page and Instagram feed for regular recipe ideas.
Category_Kid favourite
Simple ingredients, super easy to prep & will keep the kids busy in the kitchen for ages rolling delicious healthy choc raspberry Easter eggs! Ingredients 1x 750g Bliss Ball Mix 150g frozen ras...
Read more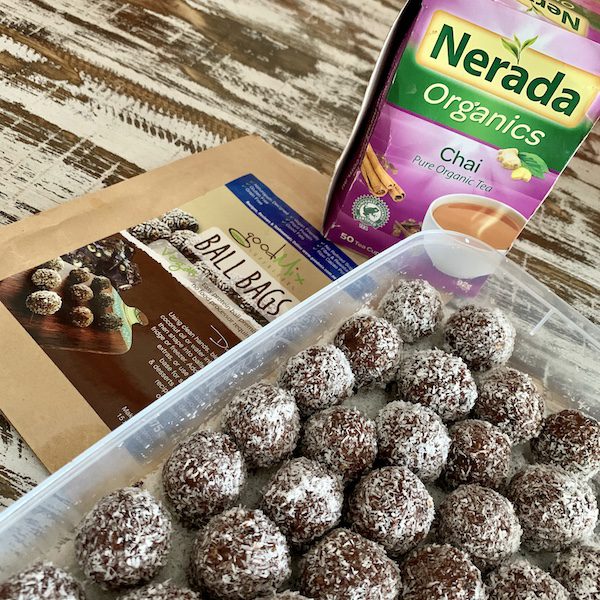 Category_Desserts
An easy & delicious way to get more antioxidants into your day! The spices in Chai are amazing for you (& they give a subtle exotic twist to your regular choc protein balls)! Perfect for a ...
Read more