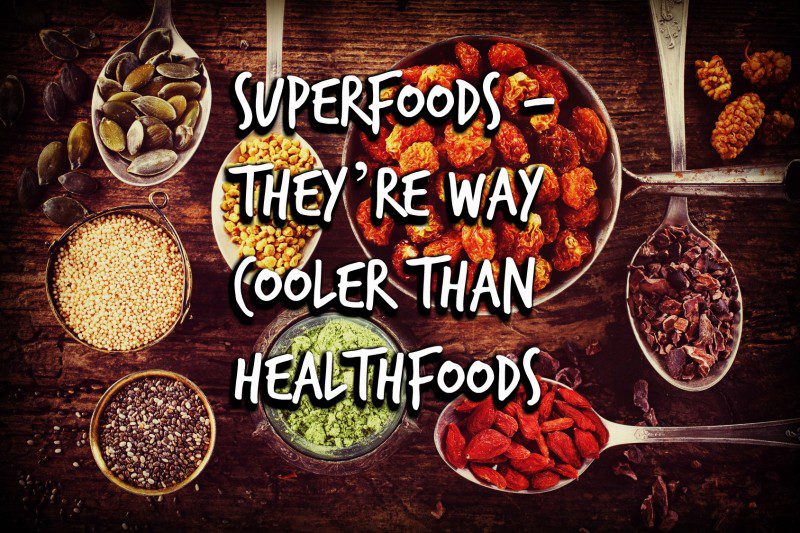 Superfoods - They're Way Cooler than Healthfoods
Is Kale Really More Super Than Broccoli?
Acai, quinoa, kale, matcha…every week there seems to be a new trending superfood these days! This type of thing (a food with loads of nutritional and / or medicinal benefits) used to just be known as a good old 'health food' - to be found in a health food shop - but now they all seem to have been re-branded as SUPER, & be jostling for the crown of 'No 1 superfood of the year'. Will our health stores soon be called Superfood Stores? Or should they divide them up into the regular healthfood side & the top shelf 'superfood' side, with front & centre shelf space assigned to 'what's hot this month'? Where to put everything would be a nightmare - I remember back in 1998, in first year naturopathy nutrition class we were given a list of 'superfoods' which included organic oats, broccoli & blueberries (seemingly mediocre foods that pale in comparison compared to the exotic trendsetters of today…do they even still rate a mention - or meet the criteria?) Broccoli vs Kale? Oats vs quinoa? Goji vs Acai? I think we all know a lot of it is in the marketing & in 'which celebrity is eating what'!
Superfoods in Boring Packaging…
Anyway - whatever you want to call them, & whoever is promoting them - you will now be able to order quite a few healthy-superfoodie things online with your goodMix products, because we have them just sitting around & waiting to be 'goodmixed' into a batch of something! So anything we use as an ingredient, you'll be able to purchase separately as well - things like maca powder, natural whey or pea protein, chia seeds, cashew pieces, dried apricots, desiccated coconut, hempseeds…whatever we use as an ingredient we can also now also bag up & sell separately online (no fancy labels, it's a budget operation). We win because we can order greater volumes of ingredients - to help keep our end prices low, & you win as it might save you a trip or two to the shops if you can just order online a few super-staples for the pantry with your goodMix. Year 9 woodwork students need to start building their mum's 'superfood racks' for the kitchen instead of the traditional spice racks….we need them all lined up next to the blender, ready to go!
Local Vs Overseas, Organic Vs Conventional…
Most of our available ingredients are certified organic, but we do use a few that aren't, so please feel free to email me: jeanie@goodmix.com.au & ask any specific Q's you have prior to placing an order. We will often choose conventional Aussie grown if the overseas product looks a bit worse for wear by the time it arrives here, or we feel that the local quality is much better, & some products would not be possible / viable if all ingredients used were certified organic - i.e. the dates in our
BlissBalls
are conventional as the price difference to use organic is unfortunately too great - but our apricots are certified as the pricing makes it possible (& it would be unthinkable to use the apricots with preservatives all over them!) We use conventional dried bananas now in the
Blend13
as they are sooo much fresher & yummier than the overseas organic ones - & they are preservative free & grown just up the coast. Basically we shop for ingredients like we do for our groceries - support organic growers wherever possible, support local farmers wherever possible (we do trade farmer direct as much as we can), & always be looking for the best quality ingredients at the best prices. Our ideal would be to always buy certified organic, locally grown, farmer direct, ingredients at rock bottom prices…but you might end up with a pretty boring breakfast…& we might end up not having a business to support any of them!
SUPER SPECIAL!
So - do check out all the new additions available to order here
BUY SUPERFOODS ONLINE
, and to really get the (choccy protein) ball rolling - here's a super-special-limited-time-only-while-stocks-last-bargain price on Certified Organic, Fair Trade
Raw Cacoa powder
(use the coupon below in the check out for 20% off marked price) ! Stock up to get yourself through a winter full of raw choccy treats & steaming mugs of hot chocolate! Purely because cacao is a superfood full of magnesium & antioxidants that will keep you young & beautiful forever - not because you're a chocoholic or anything ;)
Place the coupon code below in the check out for 20% of Raw Cacao
Mychoc20
PS - if you are an Aussie organic farmer, (or know one) who might like to grow something (super) healthy for us to use as an ingredient in future products - please get in touch, the possibilities could be huge!

Bloating
Limiting dietary FODMAPs is an effective treatment for many people with symptoms of IBS. The diet has been published in international medical journals and is now widely recommended as one of the mo...
Read more