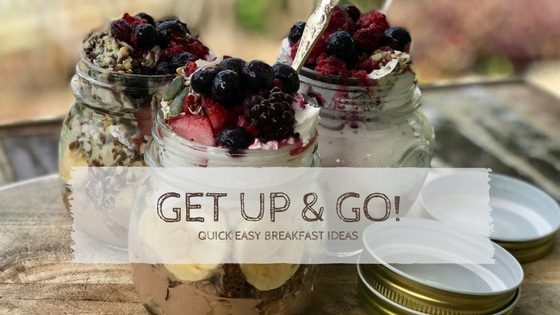 Get Up & Go Breakfast Ideas!
What's for breakfast?
Make it yummy, make it healthy & make it the night before (more time for morning exercise = start the day amazingly)! Get up early, move your body, & then feed it well. Trust me - you'll feel a million bucks if you can make this a habit! Post Australia Day = no more partying or holiday laziness, it's time to get into some healthy routines for an awesome 2018!
Get organised!
Avoid the crazy morning rush (& excuses for not exercising & eating well) with pre-made, portable breakfast jars. You can make a few on a Sunday night & then - no breakfast prep Mon Tues or Wed, yay! Leaves plenty of time for your morning exercise (this is not an excuse to sleep in)! Plan a morning walk / run / surf / gym or yoga session or whatever you enjoy & then help make it happen by prepping breakfast for the household the night before, getting an early night & setting that alarm to make some 'movement time'!
Goodness in a Jar!
An activated Blend11 parfait is so filling you won't be reaching for that muffin / bar / snack mid-morning. These breakfast jars are full of enzymes, good fats, plant protein, diverse fibre & all the other good bits like polyphenols, phytosterols, antioxidants, vitamins, minerals & trace elements. The gut health benefits of having a regular diverse fibre intake can be incredible - just read some of these Facebook reviews
Eat Later?
These are perfect if you have to get up really early for work, or if you're trying the 'intermittent fasting' thing (where you break the nightly fast a little later in the day to give your gut & metabolism a longer rest from constant eating). You can use any recycled jar & just keep them in the fridge, ready to grab quickly & throw into an esky / cold bag as you head out the door.
Fresh market fruit combos to try with your Blend11:
Peach & mango - team with natural unsweetened coconut yoghurt (or use half vanilla & half greek dairy yoghurt if the kids are really picky / still addicted to sugar / don't like coconut). Just mix the yoghurts without them seeing you, & they'll never know you've just halved their morning sugar intake!
Passionfruit & banana
(again, awesome with natural unsweetened coconut or greek yoghurt). Mix your passionfruit & banana together so the banana doesn't go brown.
Berries, fresh or frozen
: strawberries, blackberries, blueberries, raspberries, mulberries - all yum, esp with
Pure n Free
chocolate coconut yoghurt! (Amazing breakfast + dessert overlap)! Also delish with unsweetened yoghurt.
Red plum, cherry & red grape
(again - amazing with choc coconut yoghurt!)
Apple or pear with cinnamon
(awesome with a dollop of coconut or greek yoghurt).
**If your gut is a bit funny with any of the above fruits, it might be the FODMAP's they contain. FODMAP's are pesky carbohydrates that can turn a normal flat comfortable tummy into a bloated painful spasmodic irregular wreck in minutes - in quite a lot of IBS people! Good to know your fruity FODMAP's if you suffer from IBS - for a small fee you can download the Monash University App from the app store, there is a fruit list in there (as well as all the other foods too)! Blend11 is low FODMAP - just needs the right ingredients to go with it if you're sensitive.
If you have some combos to share I'd love to feature them (recipes need to use goodMix products to get published in the
recipe section
;-)
jeanie@goodmix.com.au