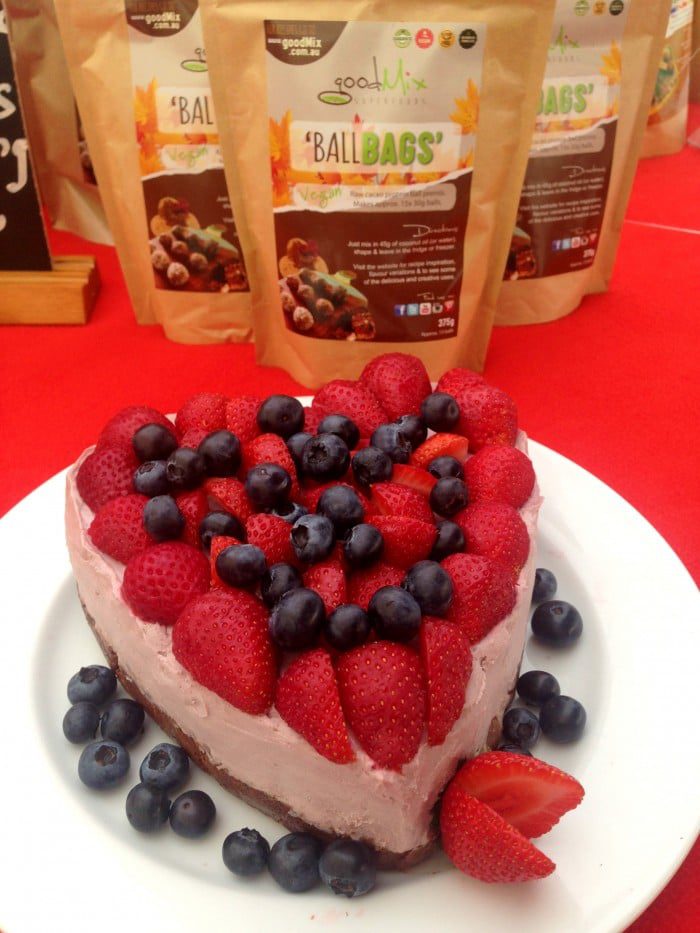 Sweetheart Strawberry Cheesecake
Dairy free, Gluten Free, Raw and Ridiculously Tasty! OMG- so I have tasted and attempted many raw cheesecakes over the years but this one is seriously ridiculous!! The secret to the real cheesecake taste is the tang from the lemon juice! Not only is it gluten free and dairy free but the good fats and fibre from the cashews stops the insulin spike and the sugar coma like from a traditional cheesecake. WARNING- this cheesecake is highly addictive so hide it from your partner and kids.
Base:
1 x 375g
Bliss Ball mix
45g coconut oil
Filling:
2 cups cashews, soaked overnight 2 cups fresh strawberries 1/4 cup maple syrup 3/4 cup coconut oil 1-2tsp lemon juice 1 tsp vanilla essence
Topping
1/2 cup fresh strawberries 1/2 cup fresh blueberries (or other fruit of choice) 1. Grease a 20cm heart shaped (or round) cake tin with baking paper 2. Prepare
Bliss Ball
mix as per packet instructions and press into base of tin. Freeze for 20 minutes 3. Blend all 'filling' ingredients in food processor and blend until extra smooth layer over base. Tap tin to ensure there are no air pockets and filling is level. Refrigerate overnight 4. When ready to serve, decorate with your favourite fruits or sprinkle with cacao or coconut flakes. Serves approx 8-10
Thanks to Emma Boucher for this amazing recipe!!