Ghoulish Green Shots + Bleeding Eyeballs
Sweetness from the pear & kombucha, plus a little zing from the ginger mask the celery & PondWater so kids will drink it! Adjust quantities to make it more or less sweet / gingery / fibrous etc. And tell them it's what makes hulk & ninja turtles so strong if they don't go for it at first! The balls are chocolatey, filling & nutritious & look kinda creepy (without any nasty fake ingredients).
Ingredients
Ghoulish green shots: - 1 pear - 1 knob of ginger (to taste) - a few sticks of celery - 1/2 cup of ginger kombucha - 1/2 to 1 cup of ice - 2 teaspoons of Greens Plus Aloe
Bleeding Eyeballs: Bliss Ball mix 375g coconut oil 45g vanilla essence 2 tsp 1/4 cup of melted raw cacao butter 10 blueberries small piece of fresh beetroot
Method
Green shots: Just throw everything in the blender (ice last) & blend really well until smooth. Serve in shot glasses or normal cups. Eyeballs: 1.Mix coconut oil & vanilla essence in with the Bliss Ball mix. 2.Work it through with your hands until soft & evenly combined 3.Shape into 'eyeballs'. Chill in the freezer for 10 mins. 4.Dollop a splodge of melted raw cacao butter onto the ball (or dip the ball carefully into the melted cacao butter so it covers a perfect circle. 5.Place a blueberry (chopped in half) in the centre of the cacao butter. 6.Use a sharp knife or peeler to cut some long, stringy pieces of beetroot (the blood dribbles) & stick these into the cacao butter. 7.Refrigerate to set hard.
Serves Approx
15 -20 shots (or 2 smoothies) 15 eyeballs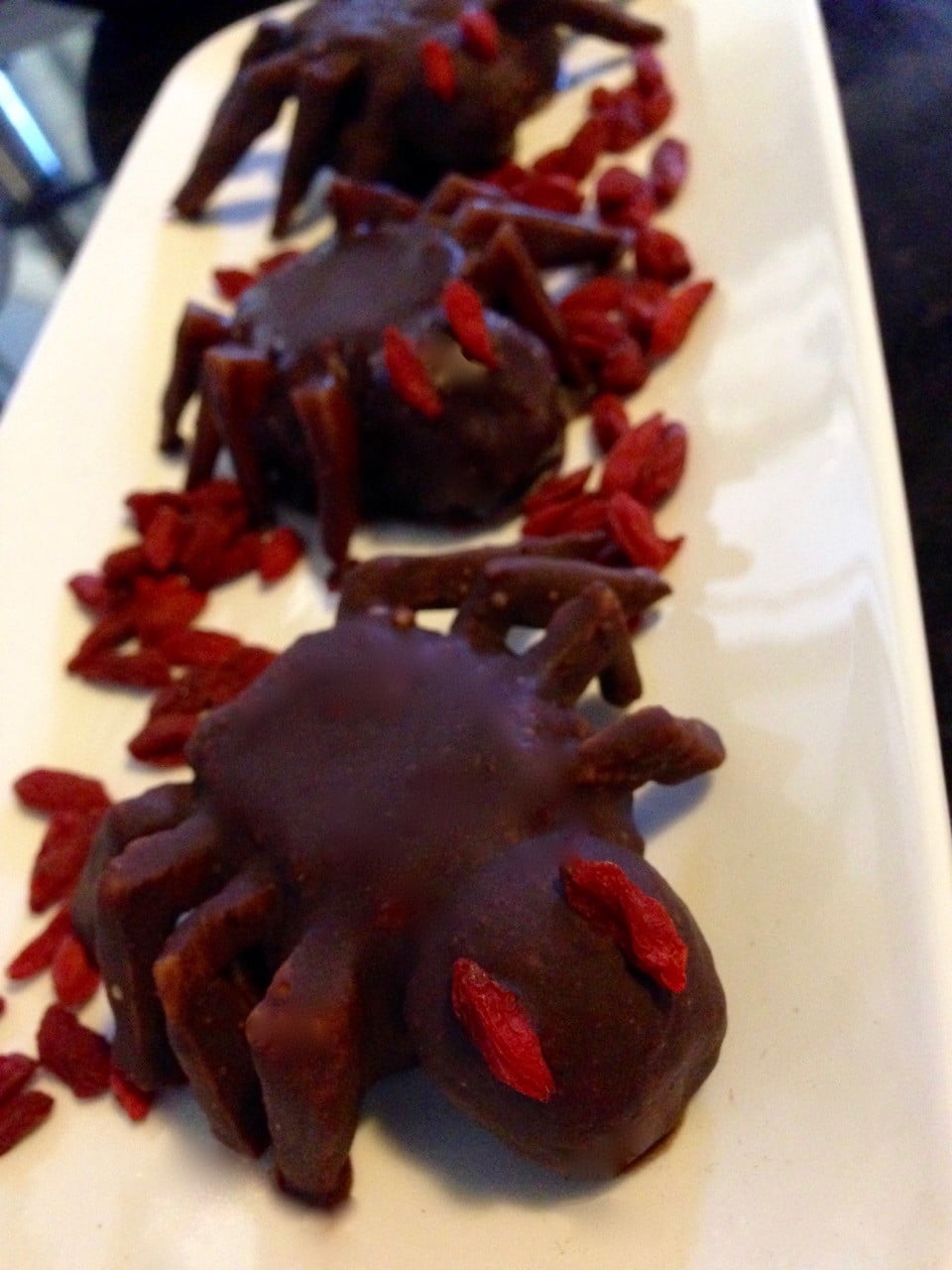 Category_Desserts
Get your Ghoul on with these Gluten Free Dairy Free Halloween treats! This recipe is a great way to still enjoy the halloween spirit (hehe) without all the nasty chemicals and preservatives. Your k...
Read more