Caramel Slice Healthy Version
This is a deliciously decadent (yet much healthier) version of the classic caramel slice, made using just a few simple ingredients. Tip - make a double mix, it will disappear very quickly :)
Ingredients
Base:
1 cup of activated Blend11
2/3 cup almonds (raw or toasted)
10 dates (moistened slightly to soften - pop them in with the goodMix when activating)
1/3 cup coconut oil
a pinch of salt
'Caramel' Filling:
25 dates
2-3 pinches of salt (use Celtic or Himalayan)
1/4 cup of coconut oil
1/4 cup of nut butter (my fave is a mix of almond & macadamia)
Chocolate Topping:
1/4 cup coconut oil (or melted raw cacao butter, or a mix of the two)
1/2 cup raw cacao powder (adding a dash of carob powder is nice in this too)
2-3 tablespoons of maple syrup
pinch of salt
Method:
Combine the Blend 11, dates & almonds in a food processor until mix is pretty crumbly but also sticky. Add coconut oil and mix through thoroughly. Press evenly into your dish to set. This forms your base. Next is the caramel layer, process the dates (lightly moistened is good) in a food processor with the coconut oil and nut butter, then press / spread onto base evenly. For the topping, combine coconut oil /
raw cacao powder
, salt and maple syrup in a saucepan, gently heating until melted. Stir in the cacao powder, then pour over the caramel layer & refrigerate. (Or place in freezer if too impatient!) Wait until all set, then slice & enjoy!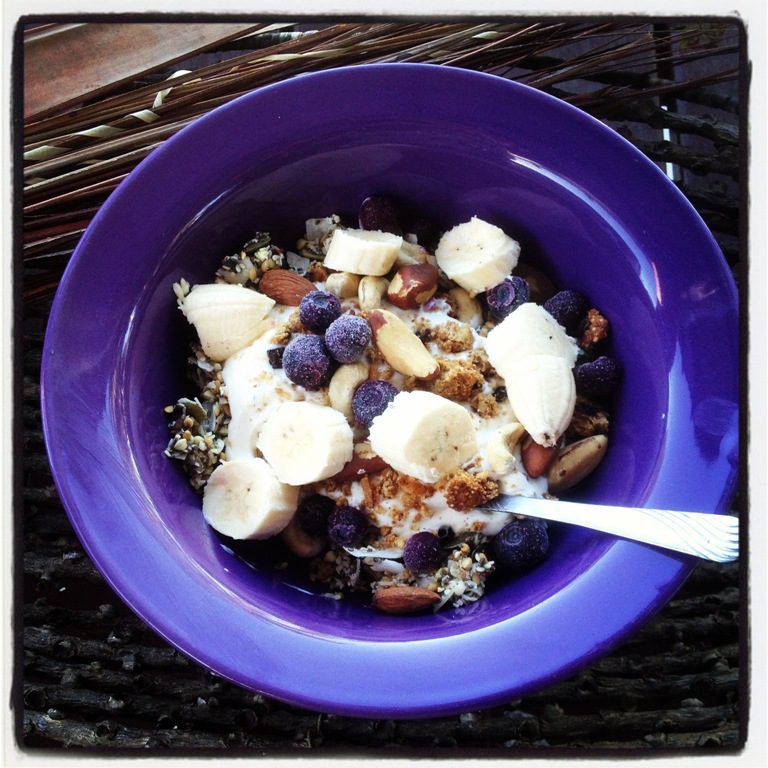 Category_Breakfast
If you need a BIG feed to get you through a BIG day, then try this one out! Not just a big bowl of cereal or muesli here. With a stack of macro nutrients - good fats, protein and some healthy carbs...
Read more