Supergreen Gummy Lollies
A sneaky and oh so delicious way to get your greens in! - The kids will love them :) Once you've mastered your first batch you can start experimenting with different flavours. We would love to hear what you've tested out - be sure to let us know your gummy creations in the comments below.
Ingredients
- 2 limes, juiced - 4 tablespoons of grass fed gelatin (vegans can substitute with agar agar) - 2 tablespoons of honey or rice malt syrup - 1 tablespoon of
Greens Plus Aloe
- 1-2 tablespoons of boiling water
Method
1. In a small bowl mix together lime juice, honey or rice malt syrup. 2. In a seperate small bowl mix together your boiling water and gelatin, stir until dissolved (you may need a little extra water). 3. Add your gelatin mixture to your
Greens Plus Aloe
mixture. 4. Pour mixture into silicon trays or a square container (gummies will be really easy to peel out). 5. Set mixture in the fridge for 45 minutes. 6. Pop/Peel your gummies out of your mould. If you used a container you can cut your gummy into small squares.
Serves Approx
10 Thank you to Anika for this recipe! anika@goodmix.com.au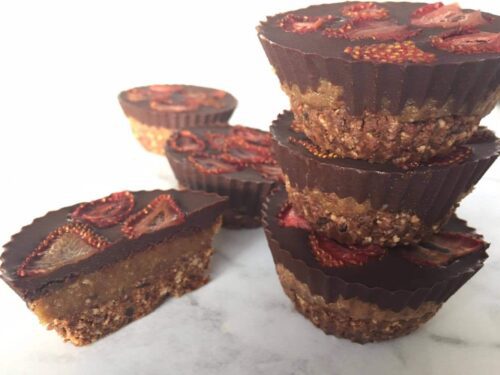 caramel
If you haven't dehydrated strawberries before, we definitely recommend you give it a go! It wasn't a hard decision to add a little extra to the classic caramel slice and top them with these sweet d...
Read more