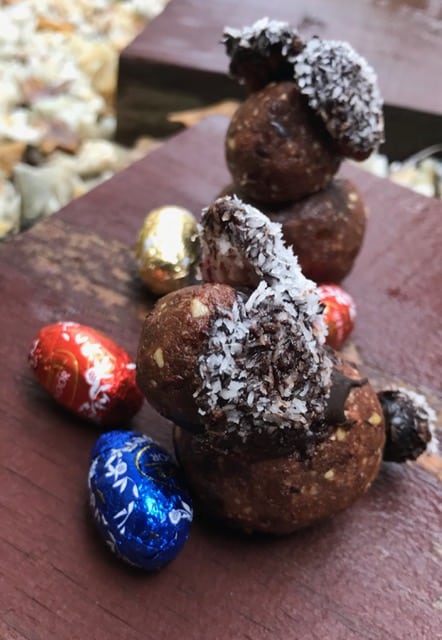 Easter Ball Bunnies
School holiday kitchen creativity! A fun way to get the kids interested in making their own food.
Ingredients
1 bag vegan Bliss Ball Mix
Coconut oil or water to bind ball mix together
Strawberries
Blueberries
Pecans
Hazelnuts
Desiccated coconut
Melted dark chocolate
Toothpicks
Method
1. Moisten the dry Bliss Ball mix with the oil or water & combine well by squeezing through with your hands.
2. Shape 2/3 of your Bliss Ball mixture into larger 'body balls' & the other 1/3rd into smaller 'head balls'. Put them all into the fridge to set.
3. Melt the chocolate in a double saucepan, whilst toasting the hazelnuts if desired.
4. Chop your strawberries into ear-shaped slices (or you can use pecans for ears), & dip them into the melted choc, then the desiccated coconut. Lay them out onto a sheet of baking paper or leave to sit in an ice cube tray. Refrigerate so they set.
5. Dip your bunny 'tails' (blueberries or hazelnuts) into the melted chocolate then the coconut & lay out on the baking paper trays. Refrigerate til set.
6. Once everything is hard, it's time to construct your bunnies! Use toothpicks & / or melted chocolate to stick the body parts together!
Serves Approx
Depends on size of Bliss Ball Mix & your bunnies! Approx 17 for a large bag Bliss Ball mix.
Category_Breakfast
Claudia's Cleansing Green Smoothie Power Bowl topped with muesli, coconut kefir, berries and a spoonful of nut butter for an added protein kick. Make sure you check out BareVitality's website for l...
Read more